'Entwined in the Vine' Receives Stout Silver Medal
As 2018 comes to a close, here are some belated news that I wish to share with you. It was exciting to learn that 'Entwined in the Vine', created by Karol Emmerich (Springwood Gardens, MN), has been awarded the 2018 Stout Silver Medal, the highest honor a cultivar can receive. Karol also received an Honorable Mention for her introductions 'Wrestling With Angels' and 'Overflowing Heart'. Many congratulations, Karol, we are delighted for you!

Karol Emmerich (photo courtesy of
Brenda Macy)

'Entwined in the Vine' (photo courtesy of Kathleen Nordstrom)
Looking Forward to "Fireworks in the Garden" in 2019
Members of the Nebraska Daylily Society (NDS) invites you to join them on Friday, July 5th through Sunday, July 7th, in Omaha, Nebraska, for the 2019 AHS Region One Meeting. Guest speakers are hybridizers Charles and Heidi Douglas of Browns Ferry Gardens of Georgetown, SC. Browns Ferry Gardens was a 2018 AHS National Convention tour garden. Charles and Heidi will present their programs on Saturday evening following the banquet.
The host hotel is the Marriott Hotel, 10220 Regency Circle, Omaha, NE 68114-3706, (402-399-9000). Mention "Nebraska Daylily Society" to get the reservation group rate of $106 per night.
Your registration includes the bus tour and four meals: Friday banquet, Saturday breakfast, Saturday lunch at Keast Daylily Gardens, and Saturday banquet. Guest meals for Friday banquet and/or Saturday banquet and/or Saturday breakfast are also available. Please see the registration form for details and fees. For your convenience, the registration form has fillable fields, so you can use your computer keyboard to type your information—no handwriting is necessary!
Four large tour gardens and five lovely open gardens await you. Three tour gardens and all of the open gardens belong to hybridizers, so in addition to seeing the latest and greatest well-known daylilies, you will meet several "new to you" daylily introductions and seedlings from our very own metro-area hybridizers. To supplement all the beautiful daylilies in the four tour gardens, NDS gave each tour garden funds to purchase a collection of daylily club plants from the hybridizer of their choice (to be auctioned off during a future NDS meeting).
GARDENS ON SATURDAY'S BUS TOUR:
• Keast Daylily Gardens (Oakland, Iowa) Tom & Mary Keast—Jamie Gossard club plant collection
• McIntosh Daylily Place (Omaha) Phyllis McIntosh—Charles & Heidi Douglas club plant collection
• Daylilies on the Fritz (Cedar Creek, Nebraska) Lyle & Rita Kahnk—Paul Owen club plant collection
• Farmony Gardens (Omaha) Nancy Lee Anderson—Richard Norris club plant collection
OPEN GARDENS ON FRIDAY AND SUNDAY:
• Mary Baker's Garden (Omaha) Mary & Rich Baker
• Hansen's Daylily Haven (Papillion, Nebraska) Dave & Val Jean Hansen
• Ferguson Fantasy Flowers (Omaha) Scott & Linda Ferguson
• Doug Bremers' Garden (Omaha) Doug Bremers
• Bob & Joanne Langabee's Garden (Bellevue, Nebraska) Bob & Joanne Langabee
The Region One Daylily Auction begins on Friday evening at 7:00 pm and credit cards will be accepted. Shop our Bargain Table for outstanding daylily buys on Friday and Saturday (see the registration form for bargain table hours).
Region One garden owners, please donate daylilies for the auction and bargain table! Auction Plant Chair is Mark Langemeier (mbacr5@hotmail.com) and Bargain Table Chair is Susanne Milbourn (srmilbourn@hotmail.com).
Phil Fass will chair and instruct Garden Judges Workshop 2 with Don Lovell from 9:00 am until 11:00 am on Sunday at McIntosh Daylily Place (outdoor restroom facilities will be available). Garden Judges Workshop 1 is canceled due to lack of available Garden Judge Instructors.

But wait—there's more! On Friday from 4:00 pm until 5:00 pm, Tim Morrissey (teleost.tim@gmail.com) will host the Region One Hybridizers Slide Presentations. See the latest, greatest daylily creations from our very own hybridizers!

Questions? Contact our 2019 AHS Region One Meeting Chair, RP Val Hoefer (hoefrv@gmail.com) or Registrar Leslie Rule (Leslie1967.2003@gmail.com).
Celebrate daylilies with NDS in Omaha on July 5th-7th. Visit with friends and meet new ones while we all enjoy beautiful daylily "Fireworks in the Gardens"—don't let the only thing missing be you!

New Region One Officers & Liaisons
As of October 29th, 2018, the positions of Historian and Science Liaison have been assumed by Kathy Larson and Keith Riewerts, respectively. We thank them for accepting to undertake these roles in our Society and wish them every success.

Region One now has its Own Blog
Many thanks go to Mary Baker (NDS) for setting up a Region One blogsite. This site, which can be accessed by clicking here, could be used by Region One members for many purposes, including publicizing regional and club meetings, sharing information about daylily cultivars, hybridizing and cultivation, and attracting new members to our clubs. As her first blog, Mary provides the latest information about "Fireworks in the Garden", our 2019 Summer Regional Meeting on July 5-7th. Pay a visit to the blogsite and tell us what you're thinking!

VEEP Perpetual Scroll
The VEEP Perpetual Scroll is an award established by AHS Region One in 1963 to recognize service to AHS Region One and support for the Region One President (RP). Attached is a description of the award plus a list of recipients since its inception in 1963. This is similar to awards other regions have but dates back earlier as everything started in Region One.

AHS Region One 2018 Popularity Poll Results are In!
For many years now, AHS has been conducting a popularity poll among its members to identify the most favorite daylily cultivars in each region. Many thanks go to Steve Horan, Region One's Regional Publicity Director, for organizing our region's Pop Poll and tabulating the results. Steve reports that 70 Region One members voted. Since our region has 255 members, 27% took part in the poll. Thank you for your participation! As the attached pdf indicates, 210 cultivars received at least one vote. The overall winner was 'Neon Flamingo' (Gossard, 2006), receiving 30 votes. 'Ruby Spider' (Stamile, 1991) came in second with 17 votes. Three cultivars tied for third place with 16 votes each. They were 'Bela Lugosi' (Hanson-C., 1995)), 'I Lava You' (Holmes-S., 2009) and 'Kathy Larson' (Lovell, 2015). There were 115 write-in candidates; these are highlighted in red. The top write-in candidates were 'Blufftop Volunteer' (Steffenhagen, 2006) and 'Kingdom Come' (Moldovan, 1991) with 3 votes each. Five candidates on the ballot did not receive any votes.

Photo courtesy of Val Hoefer
What happens now? As is our custom, 'Neon Flamingo' will be retired to our Region One Hall of Fame. The most recent HOF winners are shown below:
2018: 'Neon Flamingo' (Gossard, 2006)
2017: 'Chasing the Dragon' (Fass, 2014)
2016: 'Primal Scream' (Hanson-C., 1994)
2015: Entwined in the Vine' (Emmerich, 2007)
2014: 'White Eyes Pink Dragon' (Gossard, 2006)
2013: 'Love and Dazzle' (Lamb-K., 2006); 'Scarlet Pimpernel' (Ripley, 2006)
2012: 'North Wind Dancer' (Schaben, 2001)

In 2019, it is likely that the online ballot will again give voters the opportunity to write in 10 cultivars of their choice.

Remembering Bryce Farnsworth by Mary Baker
My good friend Bryce Farnsworth of Fargo, North Dakota passed away during the evening on Thursday, September 13 after a sudden and unexpected heart attack. Bryce had been suffering from pneumonia, and had been in and out of the hospital this summer, but was feeling better.
| | |
| --- | --- |
| | |
| Bryce Farnsworth (photo courtesy of Debbie Monbeck) | Bryce standing by sign for NDSU's public AHS Historic Daylily Display Garden (photo courtesy of Joan Zettel) |
I first met Bryce during my first term as Region One's Vice President (RVP) in 2000 or 2001. Bryce was a daylily advocate. He was passionate about North Dakota State University's historic daylily, iris, and other plant collections in Fargo. He contacted me to save NDSU's historic and modern daylily collection, iris collection, AAS and other display gardens from demolition (the entire area was to become a parking lot for the new College of Business Administration building).
Bryce and I teamed up with NDSU's Barb Laschkewisch; Karen Schock, President of the new Central North Dakota Daylily Society; and the late Janice Dehod, President of the new Canadian Prairie Daylily Society in Winnipeg, Manitoba, Canada. We all met in Fargo with NDSU President Dr. Joseph Chapman and Vice President and College of Agriculture Dean Pat Jensen to explain the value of the AHS Display Garden's historical collection with its rare cultivars and attempt to save the historic and modern daylily, iris, and other plant collections and keep them accessible. Our efforts were successful. We made such a good impression that Dr. Chapman canceled the rest of his meetings for that day and led us on an impromptu campus tour. More meetings of a happier nature (planning meetings) followed. Dr. Chapman created a brand-new alternate campus entrance with much larger space where all the gardens were relocated.
NDSU's historic daylily collection became the very first public AHS Historic Daylily Display Garden. Bryce served as the liaison for NDSU's Historic Daylily Display Garden and modern Daylily Display Garden until his death, plus his personal garden was also an AHS Display Garden. Bryce loved to collect daylilies and donated many historic and modern daylilies to NDSU. Bryce also hybridized daylilies. He was a mentor to newbies, and welcomed them to the daylily world. I was honored to name one of my best daylilies, 'Bryce Farnsworth' (2013, tet) after him. The pod parent of 'Bryce Farnsworth' happens to be named 'Fargo' (Oscie Whatley/Mary Baker, 2009, tet). To read more about Bryce and NDSU's gardens, click the links to articles about them on the AHS Region One website http://www.ahsregion1.org/R1-NDSU2.html.
Bryce worked with potato breeding at NDSU. He worked hard for many years in all kinds of bad weather planting potatoes throughout NDSU's various potato fields throughout North Dakota as well as harvesting them. He also pollinated potato blooms in NDSU's greenhouse, and tasted potatoes for NDSU. Despite all the potato taste tests, he never got sick of them. Bryce knew all there was to know about potatoes--and then some. Bryce designed and created floral displays for NDSU's Harvest Bowls and other events.
Bryce's work at NDSU was recognized by many. On Friday, October 24, 2003, Bryce received the prestigious Prairie Garden Award for Excellence for 2003. Presented by the Prairie Garden Committee, this award is for excellence in horticulture. Bryce was the fourth person to receive the Prairie Garden Award for Excellence and he is the first non-Canadian award recipient. Bryce received this award during a ceremony at Assiniboine Park in Winnipeg, Manitoba.
In addition to all of Bryce's work with the daylily and other gardens at NDSU, Bryce served AHS Region One in many capacities. He first became an AHS Garden Judge in 2005, and served as a Garden Judge since then. Bryce became AHS Region One Historian from 2002 and remained in that position until his death. He faithfully attended annual regional meetings until 2018, when hospitalization with pneumonia forced him to cancel. He donated many daylilies to several regional meeting auctions, regional Internet auctions, and regional mail auctions over the years. Bryce also donated daylilies to new daylily clubs within Region One to get them started, and he donated daylilies to several club bargain sale tables.
Bryce was a close friend, intelligent, with a heart of gold and a wonderful sense of humor. We often spoke on the phone, and each year he and I were bus mates during AHS Region One meetings. I just talked to him a couple of days before he passed away. Oh, how I will miss him!
| | |
| --- | --- |
| | 'BRYCE FARNSWORTH' (Mary Baker, 2013, tet). Parents are 'Fargo' X 'Alicia Rose Kissed'. |
Bryce's funeral took will take place on Thursday, September 20th, at Our Savior's Lutheran Church in McHenry, ND. Five members from Region One attended. Bryce's obituary can be accessed here. Visit our Region One blog to find notes written by Mary Baker after Bryce's funeral.

Looking Back at Our 2018 Summer Regional Meeting
On behalf of all attendees, your webmaster would like to congratulate and thank the organizers and volunteers of the 2018 Summer Regional Meeting in Bismarck/Mandan for putting on a wonderful event for Region One. We were invited to "Discover Dakota Daylilies" and that's exactly what we did on July 27-29th. The featured and open gardens were exquisite, as the following photos of Lyle Moen (CVIDS) will confirm. Beginning with registration with its sewn bags and bus plants, everything was first-rate, including the hotel accommodation, meals and snacks. Congratulations should also be extended to guest speaker Melanie Mason (North Country Daylilies, NY) for her excellent presentation on a topic of interest to all, namely downsizing ones daylily collection. Click here to access a review provided by Nancy Rash, a member of Melanie's audience that night. Minutes of the Board and Business meetings were kindly provided by Regional Director/Secretary Kris Henning.

Saturday's Featured Gardens & ND Heritage Center

Open Gardens

Banquet, Announcements, Business Meeting & Guest Speaker Melanie Mason (North Country Daylilies, NY)
NDS Members Visiting 2018 AHS National Convention in Myrtle Beach, SC
Front row: Di Keller, Val Hoefer, Ann Simmons & Carlene Potts Back row: Scott Keller, LaRee Ahlers, Butch Ahlers
Awards Announced at the 2018 AHS National Convention
At the National Convention in Myrtle Beach, two awards were announced for members from Region One. An Honorable Mention Award was given to Karol Emmerich (Springwood Gardens) for her daylily hybrid 'Alpha and Omega', while Jonathan Poulton received the Region One Service Award for his work as Webmaster and Science Liaison.

| | |
| --- | --- |
| | 'Alpha and Omega' (Emmerich, 2012) |
Farewell to an Iowa Gentleman
It is with great sadness that I must share with you that our good friend Lee Pickles (Chattanooga Daylilies, Hixson, TN) passed away at the age of 82 on Saturday, April 7th. Funeral arrangements will be announced by Hamilton Funeral Home and Cremation Services, 4506 Hixson Pike, Hixson. I first met Lee and his wife Jean at several Pollen Dabbers meetings in Marshalltown, IA, where I joined other members of the audience "oohing and aahing" at his wonderful daylily seedlings, especially his red ones. When we went out for lunch, we would join Lee as he made a bee-line for the Maid-Rite downtown to order his beloved loose meat sandwiches.
| | |
| --- | --- |
| Lee Pickles - June 2016 (photo courtesy of Facebook) | H. 'Made Right' (Pickles-Poulton, 2017) |
After I had tried my hand at hybridizing for a few years, I plucked up courage and sent Lee an email asking him to review some of the seedlings I'd produced and tell me whether I was headed in the right direction or not. I anxiously opened his return e-mail only to find that he hadn't directly answered my question but instead wrote the following advice: "Jonathan, let me share with you the same advice that my mentor Doc Branch told me when I began hybridizing. He told me to go out and buy the most expensive daylilies that you can afford and use them as the parents in your hybridizing program, because, if you start with old faces, you'll only end up with old faces". To sweeten the pot, he asked me whether I might be interested in receiving some of his extra seeds. Now, who in their right mind would ever say "No" to that kind offer? I gladly said "Yes" and, within a few weeks, I was planting several hundreds of his gifted seeds. Furthermore, I took to heart his sage advice and bought the most expensive and "bluest" daylilies that my budget allowed and then went to work trying to create a better "blue" cultivar. While I have as yet been pretty unsuccessful in achieving that goal, Lee's seeds gave rise to some absolutely wonderful offspring. I decided that the one that I loved the best should be introduced in Lee's honor as 'Made Right'. After receiving Lee's permission, we introduced it in 2017. When I'll look at that lily in years to come, I shall be reminded of the wonderful gentleman, kind friend, and excellent mentor that Lee Pickles was. He will be greatly missed by so many folks including myself.

Pollen Dabbers 2018 was a Huge Success!
Pollen Dabbers 2018 was held on March 16th-17th in the auditorium of the Fisher Community Center in Marshalltown, IA. About 35 persons attended the meeting, coming (in challenging road conditions) from Iowa, Minnesota, Nebraska, South Dakota, Wisconsin, and Ontario, Canada. In summary, this was an excellent meeting, complete with great presentations, countless photos of beautiful daylily creations, humorful banter between attendees, and more refreshments than one could possibly eat in 24 hours! On Friday evening, CIDS hybridizers brought us up to date on their latest marvels. The hybridizers' reports continued on Saturday morning and, after a delicious lunch, early afternoon. The meeting concluded with a splendid and informative talk from guest speaker Dave Mussar (Hillside Daylilies, Ontario, Canada) followed by a plant auction. By the time that the meeting ended, the sun was out, most of the snow had melted, and car travel heading home was far easier than our arrival on the previous night! Many thanks to Linda Ferguson for photos of Dave Mussar and the gang from the Nebraska Daylily Society. If you'd like to contribute photos taken at this meeting, please forward them as e-mail attachments (jonathan-poulton@uiowa.edu).
| | | |
| --- | --- | --- |
| Dave Mussar | NDS attendees | 'Rosemary Mussar' (Mussar, 2013) |
NDS Releases Vol. XXXII of its Annual Yearbooks
To help you get through the last few days of this winter, how about thumbing through a book full of beautiful daylily photos and learning what one of our Region One clubs has been up to recently? Every January for many years now, the Nebraska Daylily Society has been assembling a yearbook that includes club news from the previous year, the club calendar for the current year, and lots of helpful articles and useful information. NDS is pleased to make the 2018 edition available to you all. Click here to enjoy it! Many congratulations, NDS members, on a fabulous edition.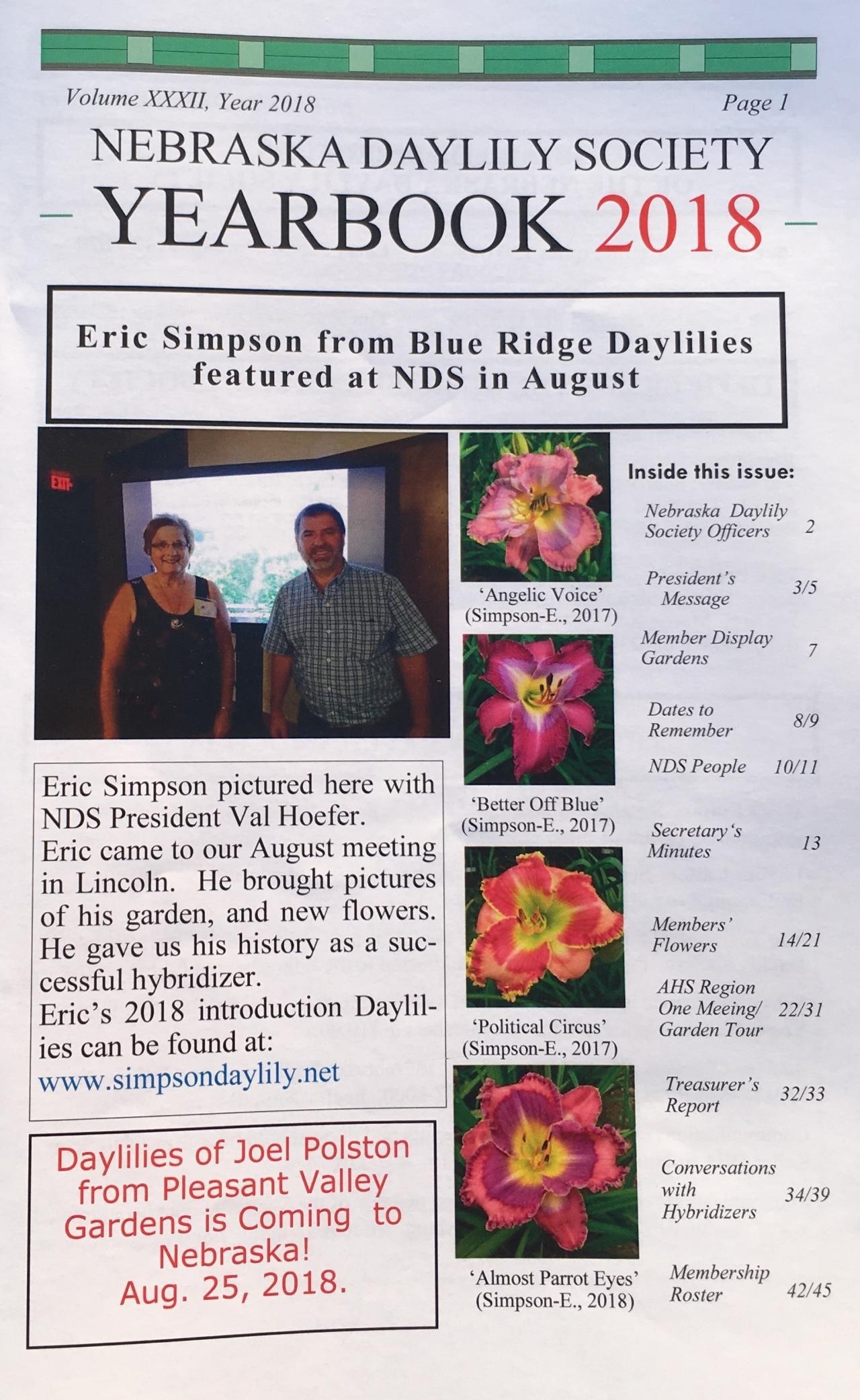 How Did NDSU's AHS Display Garden Get Started?
Region One is proud to have within its boundaries a modern and historic AHS daylily Display Garden on the campus of North Dakota State University in Fargo, ND. How this garden came into being is a fascinating story that is told in two articles authored by Mary Baker (Region One Historic Daylily Garden Liaison), Karen Schock (former Central North Dakota Daylily Society President), and Janice Dehod (Canadian Prairie Daylily Society President, Manitoba). Click here to access those articles.