Kris Henning Becomes New Regional Director
I am delighted to inform you that, as of November 10th, Kris Henning will serve as Regional Director for Region One until the end of 2018. The Spring 2018 Daylily Pioneer will contain a ballot for the Region President and Director for the terms that start in 2019. Votes will be counted and an announcement made at the 2018 Summer Meeting.



Nan Ripley Publications
An article on Nan's daylily program is in the May 2017 issue of Martha Stewart Living. Additionally, Nan's 'Supreme Scream' is on the front cover of the 2018 ia Magazine with an 8-page article on her gardening skills. You can see the full article by clicking here and scrolling to page 102.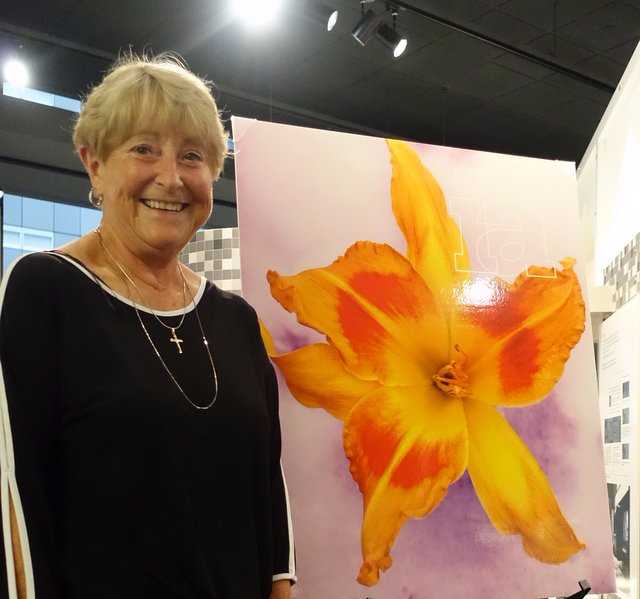 Unveiling of the ia Magazine 9.3.2017
Expanded Version of the Fall 2017 Daylily Pioneer Now Available
In early fall, Region One members were mailed the Fall 2017 issue of the Daylily Pioneer, whose cover showed CVIDS members Steve and Gerald Hobbs admiring the view from the heights of Springwood Gardens, MN. An expanded version of the journal, which contains on pp. 28-31 an article by Linda Ferguson about Springwood with photos provided by her husband Scott, is now ready for your perusal. Please click here for access. Congrats to all contributors to this fine edition and to our Editor, Susan Holland!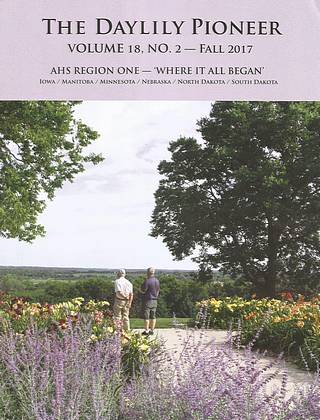 Reporting on CVIDS' 11th Annual Betty Miller Photo Contest
In 2006, CVIDS initiated a photo contest in honor of Past President and hybridizer Betty Miller. Betty had a passion for photographing daylilies and mentored several CVIDS members on how to take good photos. Her photos were featured in "Eureka" and daylily catalogs from 2001-2004. In November 2017, the 11th Annual Contest had the following categories: (1) Verne's reds (in honor of late club member Verne Moore who passionately liked red daylilies), (2) Iris, (3) Large flowers, (4) Doubles, (5) Unusual forms and spiders, (6) Clumps, (7) Landscapes (photo must include daylilies or irises), (8) Seedlings, and (9) Novelties (e.g., garden sculptures, birdhouses, animals, etc. but the photo must include daylilies or irises). First place winners in each category received $25, and the Grand Prize winner received $50. Names of winners as well as their daylily photos are posted on the CVIDS website and recorded in the club's Newsletter. Please click here to access contest organizer Mary Jo Duffy's PowerPoint presentation that not only shows the winners in each category of the contest but also all entries in each category too. Enjoy the show!

CVIDS Holds its 7th Annual Hybridizers' Roundup
In October 2017, CVIDS held its 7th Annual Hybridizers' Roundup, during which club hybridizers had a chance to tell others about their latest daylily creations. Seven members gave presentation this year. To access their talks, please click on individual names:

Any Idea What Causes This Disease?
Last winter, Jonathan Poulton raised about 600 daylily seedlings in the University of Iowa greenhouse, beginning on Black Friday. He germinated his seeds in 72-well flats in Ball Professional Growing Mix. Germination rates were acceptable, and he observed good subsequent growth in the greenhouse under the lights there using Ferti-lome's Blooming and Rooting Hormone Soluble Plant Food (9-58-8) as fertilizer. After about 6 weeks, he began transplanting the seedlings into 1-gallon pots. Not long thereafter, about 80 seedlings showed some sickness that he'd never seen before. The first sign of trouble is when the youngest leaves began to pinch at their apices (see LH photo below). Subsequently, the leaves bent over, as if they'd lost their turgidity. If he squeezed the leaf tips at this stage, they were often brittle and snapped off. The malady affected only the youngest leaves. Fearing that the overall growth of the affected plants might become stalled by the disease, he "quarantined" the sick plants on a separate bench and clipped off the affected leaf tips. In time, some of the affected seedlings seemed to grow out of the disease, but, having said that, he has many seedlings in November 2017 that are still showing the same symptoms. He has no idea what causes this disease and has no evidence that the sickness is contagious. If you have any insights, please e-mail him at: jonathan-poulton@uiowa.edu. Thank you!

2017 AHS Region One Pop Poll
Results of the 2017 Pop Poll were announced by Steve Horan, our Regional Publicity Director, at the Minnesota Regional. 'Chasing the Dragon' was declared the winner. This cultivar was selected on 39% of the ballots and outscored the closest rival 'Neon Flamingo' by two votes. Fourteen cultivars received 10 or more votes. Three cultivars on the ballot didn't receive any votes. Seventy-two cultivars received write-in votes, of which 8 write-ins received 3 votes or more. 'Chasing the Dragon' will be added to the Region One Hall of Fame. Thirty-one percent of Region One members participated in this year's poll.


Region One Hybridizers Receive Individual Cultivar Awards
Many congratulations to Karol Emmerich and Nan Ripley on their recent awards:

Karol Emmerich:
'Entwined in the Vine (2007): 2016 Stout Silver Medal Runner-up

'Desire of Nations' (2008): 2016 Award of Merit
'All Things To All Men' (2012): 2016 Honorable Mention
'Faith That Moves Mountains' (2012): 2016 Hon. Mention
'Minnesota Nice' (2013): 2016 Honorable Mention
'Not Guilty' (2012): 2016 Honorable Mention
'Spoken In Parables' (2009): 2016 Honorable Mention

Nan Ripley:
'Scarlet Pimpernel' (2006): 2016 Award of Merit


Region One Members Win AHS 2017 Awards
Congratulations to Nan Ripley (Walkabout Gardens) for winning the 2017 AHS Regional Service Award for Region One for outstanding service to AHS at the regional level.
Congrats also to Jonathan Poulton (CVIDS) for his Best Scientific Article Award. His article, titled "Genetically Engineering Those Blues?", was published in the Daylily Pioneer, Vol. 17, No. 2, Fall 2016, pp. 8-11.


How Did NDSU's AHS Display Garden Get Started?
Region One is proud to have within its boundaries a modern and historic AHS daylily Display Garden on the campus of North Dakota State University in Fargo, ND. How this garden came into being is a fascinating story that is told in two articles authored by Mary Baker (Region One Historic Daylily Garden Liaison), Karen Schock (former Central North Dakota Daylily Society President), and Janice Dehod (Canadian Prairie Daylily Society President, Manitoba). Click here to access those articles.